Good News!
Your sales copy video is whooshing its way to your inbox.
(Make sure to also check your Spam folder!)
So, you've written your brilliant launch emails.
You're confident that once people read all the juicy details of your new program, product, or service, they'll be tapping

their way to your sales page in no time. And from there, there will be nothing but Stripe & PayPal notifications ahead! 
But first, your readers need to OPEN your emails.
And that, my friend, is where your subject lines come in.
They need to grab attention, pique interest, and allude to something helpful inside. 
Otherwise, your subscribers will delete your launch emails faster than you can say, "But wait! There's more!" 
Want to do less chasing and more attracting? I got you!
Grab-and-Go Launch Email Subject Lines
OPEN UP is a collection of 200+ strategic subject lines to support every email in your launch campaign. Just open the subject line library, choose the copy you prefer (I've provided lots of options), and go!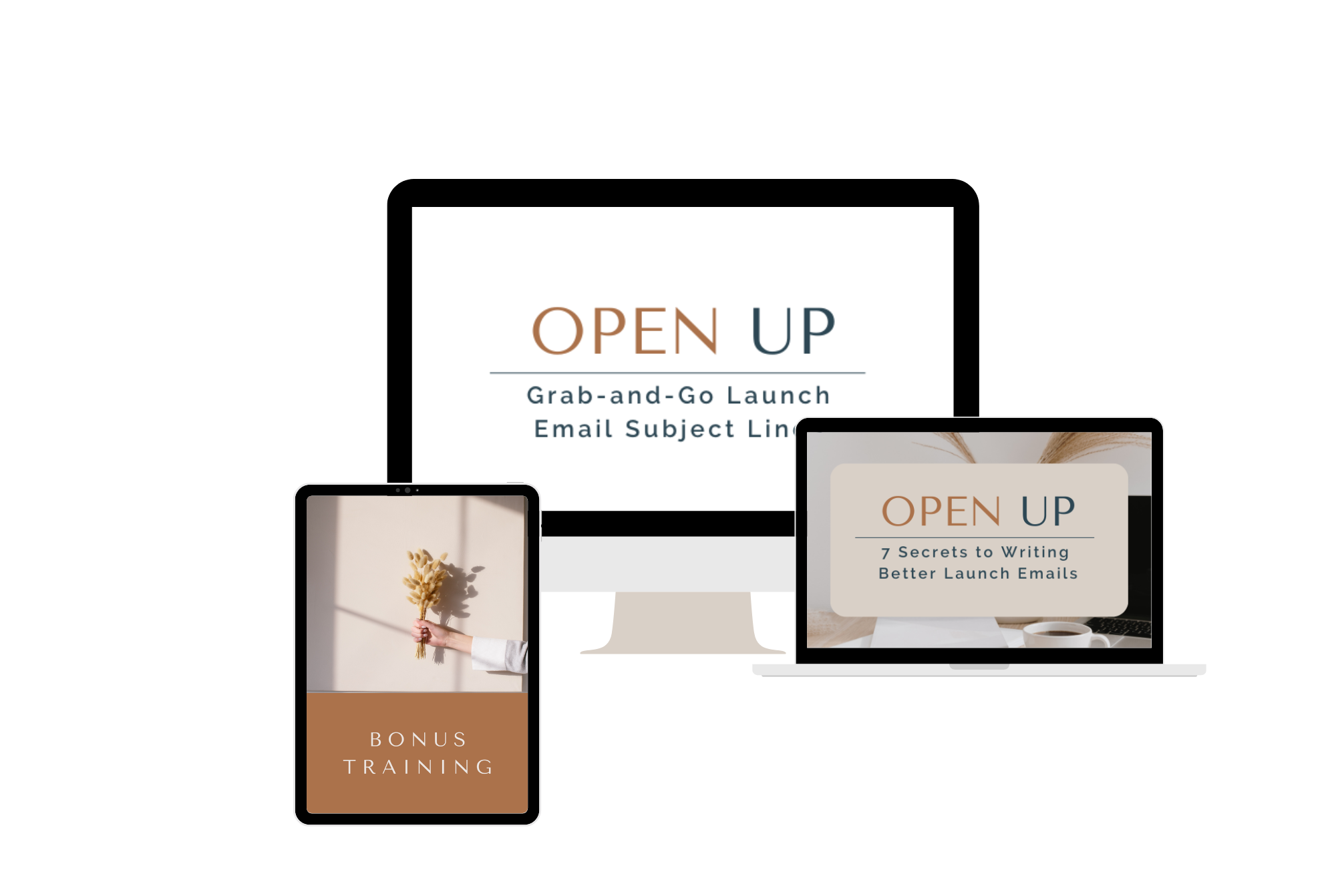 Say hello to better subject lines for these crucial emails:
→ Doors Are Open! 
→ Right For You If … 
→ FAQs
→ The Transformation 
→ And More
→ Wondering how to craft a subject line that makes people want to click.  
→ Stressing about how to squeeze your copy into just seven words or less. 
→ Worrying your emails will go unread and traffic to your sales page will suffer. 
OPEN UP will do all the heavy lifting (er, I mean writing) for you so you can sit back, relax, and crush your next launch.
Score my done-for-you subject lines for just $47 $17.
"Your sales page copy has been the absolute best investment in my business to date! I knew all along that you were the only one that I trusted to write my sales offers. Thank you, from the bottom of my heart."
"I just read your emails. They are amazing. I have zero changes. Like, ZERO changes. I knew they would be awesome, and I did not expect to have any changes, but truly, they are perfect. So, thank you so much!"
Proud mom, travel lover, suspense novel addict, and owner of Nicole Kepic Copywriting.
I'm a sales page copywriter with 20 years of copywriting experience … which makes me feel equal parts old and blessed. I never get tired of writing fun, feel-good copy for female business owners like you! 
If we're anything alike, you don't have the time or desire to do ALL the things in your business. That's a one-way ticket to burnout! 
Instead, you want to leverage expert tools to help save you time and fast-track your results. 
That's why I created OPEN UP – so you can get your amazing launch emails out the door faster, without getting stuck in The Land of Subject Line Confusion. 
Let the world see your offers sooner, I say!